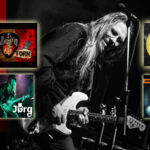 Jørg – Alben weltweit
12. September 2020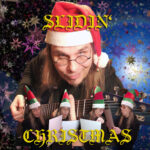 Jørg's Slidin' Christmas
8. Dezember 2020
Ciorgan Laurentiu – 25th September 2020
"I think music is the greatest art form that exists, and I think people listen to music for different reasons, and it serves different purposes. The best songs are the ones that make you feel something" said Eddie Vedder. With that quote in mind Torn is definitely a journey you must take, just close your eyes and feel it, as you travel between the notes on the internal landscapes created by this music. Without many words written I'm letting Jørg speak to you through his music and be your guide in this adventure.
Tony Rampling – 25th September 2020
Musical genius!! The combination of classic, rock, jazz and blues is incredible. This is a joy to behold indeed!!
Jørg just keeps re-inventing himself, his talents are vast and he has so many styles to draw from that you can only look forward to everything he releases. To see him live is a truly amazing experience, for me this is his best album (so far) and I cannot wait to see it performed live!! Congratulations!!
Brian – 25th September 2020
I heard some of these tracks on a radio station called pluto radio. This is a wild great tone tech guitar player. Fantastic songs. Perfect for me cuz I like to rock when I work out. Definitely 5 stars
Mary Downs – 25th September 2020
This music is brilliant folks take a listen… so very tastefully done… a great artist I recommend that you take a listen
Benny – 25th September 2020
This is fantastic Super charged Guitar Playing. I heard him on pluto Radio. Great
Jay Pillai – Lazie J – 26th September 2020
Exquisite works… Starting from the hard-hitting 'Welcome' to the storytelling in Adante Lugubre to the upbeat DNA which happens to be one of my fav in this album and he fast-paced 'Hail to Glory' and all the other songs Jorg keeps us entertained and in fact a bit on the edge. His use of guitar harmonies are brilliant so are the Arabic scales used. If you want to hear nice clean hard rock guitars listen to this and you will love to own them… Congrats Jorg
Steve – 27th September 2020
After Jørg's previous album Fight for the kingdom. I wondered what his next project would be and if he could match that same quality and production. Well it was no surprise because he not only did that he beat it hands down musically and sonically and the production was as always 1st class tight and well engineered by Jørg as I know he always wants the best.
Jørg's imagination and visionary musical ideas come to life and he takes you again on a most magnificent journey into your mind and senses.
This is most definitely an album you must buy for your classic rock collection.
Miao – 27th September 2020
I found this album by mistake while I was on EEZY2.
And I listened to it and I thought you know what this is some seriously good music.
Surprisingly this is not the music I would normally listen to, but on this occasion I was blow away.
This is the first time I have listened to jørg's music and now he has a new fan and follower.
Rick Bouwman / MARTYR – 30th September 2020
What is this? Power Metal, Classical Metal, Rock, Prog? Who cares what we call it, when the music is so well performed with taste and love. It has it all. Blown away by the compositions and the instrumental, especially the guitar, techniques and control.
Great album Jorg! Keep going!